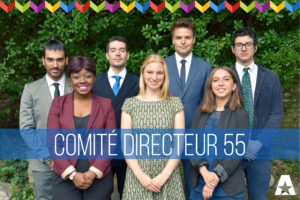 Today marks five years without our founder, a visionary of the European project and integration.
Among his thousands of initiatives, Franck Biancheri started a movement of young people breaking borders and making their voices heard, empowering them to build the society they want.
This movement is our organisation, AEGEE, the European Students' Forum, which today is 32 years old and is one of the biggest interdisciplinary youth organisations in Europe.
Today we want to commemorate all his achievements and all his work in order to make possible a more democratic, borderless and integrated Europe.
By AEGEE / European Students' Forum
Logo EGEE – Etats Généraux des Etudiants de l'Europe (the name EGEE is related to the Aegean Sea where democracy was created 2,000 years ago.
Due to a name collision with a French company the name of EGEE was changed to AEGEE in 1988 (Association des Etats Généraux des Etudiants de l'Europe)
You can read the full story of the creation of AEGEE in the little blue book, edited by Anticipolis: The Emergence of Eurocitizens, A brief history of AEGEE-EUROPE – From its creation to April 1988 – Biancheri, Franck