On June 8, the British elected a new Parliament where a Common's majority escaped from Prime Minister Theresa May and her Conservative Party. … result of this election for Theresa May is that it allows it to justify a change of negotiation line, moving from a hard-Brexit project to a soft-Brexit, henceforth adapted to the vital goal for the UK to avoid being marginalised in relation to a continent that has not followed their path…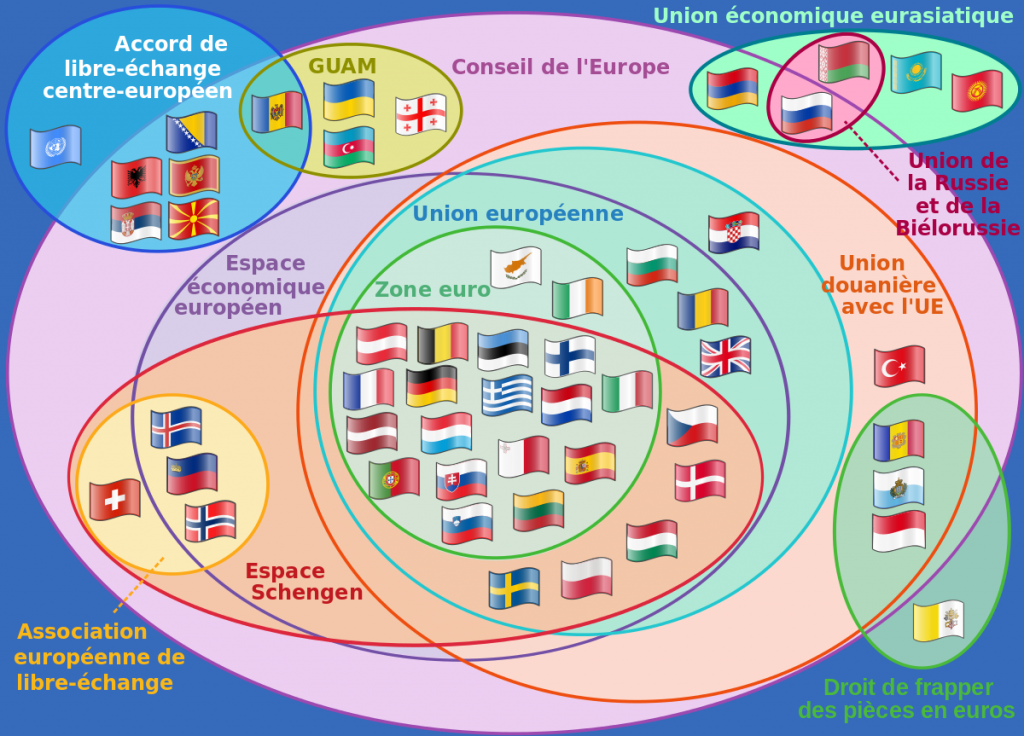 The relations among different agreements and European multinational organisations. Source Wikipedia
In order not to lose face, it is not the Brexit decision which must be called into question by these elections, but its process, the modalities, the "tonality". Brexit must be maintained because it serves both sides of the Channel by creating the conditions of change so needed after ten years of crisis. But it must also be used to:
. Allow the reform of the UK
. Allow the reform of the continent
. Allow the reform of the UK's relationship with the continent
With the electoral results which have brought supporters for a soft-Brexit, different scenarios are now officially possible1:
This last scenario is of particular interest to us. It would in fact serve as an axis of transformation that is particularly relevant to everyone:
on the British side: stowage to the mainland maintained but consumed Brexit (saved face); saved financial passport; active participation in the negotiations on "the next Europe", namely the principles of cooperation within a European Economic Area which will inevitably have to be reconfigured

9

.

on the continental side: reaching the optimal level of redefinition of European integration, making it possible to get out of the EU's too restrictive framework; integration of the 3-4 countries lacking in the proper functioning of European policies and strategies (just one example, the marginality of Iceland and especially of Norway is a major problem in the development of a Common European Defence); establishment of a major open negotiation on the next stage of continental integration where the EU will not impose its method on others but will rethink its method with the others (negotiation method which will win the support of the populations concerned); a resounding victory of the integration logics against the division logics; an integration of countries on a healthy and voluntary basis.

on Iceland, Norway, Lichtenstein sides (and possibly Switzerland): possibility to regularise their status and their participation in a European governance without by-passing their populations, being namely actors in the redefinition process; end of the current situation for these countries included in the European system of governance and legislation against their will.

on the citizens' side: We see the advantages listed above that citizens become central in this axis of upgrading the European integration, which is convincing only by the acceptability it induces for the people; on this basis, citizens will not need much to have a trans-European election promising them the choice of the broad political-societal orientations to be given to the common institutional system (thus reinforced) … as soon as 2019, why not (date of the next European elections).
We talked about the idea that this kind of scenario could be imposed "if everyone plays smart". In reality, we believe that this axis of transformation will be "systemically" imposed, namely because it serves all interests (citizens, financiers, politicians, technocrats, military, economic …). In the near future, the date of June16, 2016 may be celebrated as the victory of the forces of change. Irony of the destiny…
Abstract GEAB N°116, June 2017